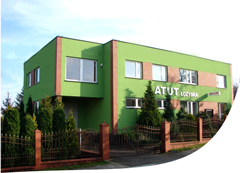 ATUT is located in Dąbrowa Górnicza in Silesia region, which is the biggest industrial and urban area in Poland.
Our company was established in 1989. At the beginning we were known as Commerce Sp. z o.o. and located in Dąbrowa Górnicza, Kasprzaka 6 Street.
In 1993 "Commerce" was converted to P.H. "ATUT". We have offered only best quality products and became significant company on the bearings distribution market.
In 1997 responding to market demand we broaden our product range with automotive bearings and wheel repair sets.
In June 2002 we have accomplished the construction works and moved to our new head office and warehouse in Dąbrowa Górnicza, Piwowara 1 Street.
Our dynamic growth, 18 years of experience and wide range of offered products has help us to become one of the leading companies in bearing sector in Silesia region.
Today we have offices and main warehouse with total area of 420m². Additionally we own the secondary warehouse with an area of 1.200m², which can be easily converted into production facility. The secondary warehouse is located in a short distance from the main office. Furthermore, Atut has at its disposal own fleet of delivery vehicles.
ATUT has over 4.500 registered customers in its sales system. We sell to customers throughout Poland. Our clients come from automotive, mining, metallurgical, power, electro technical, plastics processing, cement and building industries. We cooperate with 120 warehouses throughout Poland and 8 companies in Germany, Czech Republic and Slovakia.
We offer our customers only best quality products from leading manufacturers (FŁT, SKF, INA-FAG, ZKL, Koyo), bearing accessories, linear motion systems, industrial greases and lubricants, wheel repair sets, and our offer is still growing!
In January 2006 we have joined ABEG group.